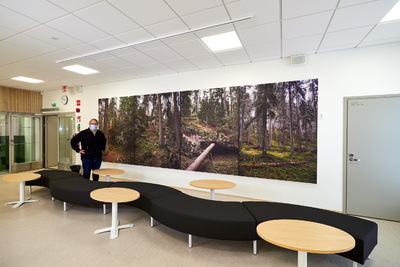 Myllyhaka School at Nokia, Finland is now complete and has started as a primary school for 1-6th grade pupils in August 2021. As wall art there are nearly 40 of Jouko Lehto's nature photos on the inner walls, printed on acoustic elements. The photos were chosen with the school staff to bring coziness and warmth to the school and also for use as material of art and environmental education.
Most of the photos are taken at Nokia or Pirkanmaa area, and all represent species and environments found on Pirkanmaa.
Unfortunately You can't visit the school because of the COVID, but you can have a look on the photos at https://lehtokukka.smugmug.com/People/Myllyhaka-school-wall-art/ . I hope You enjoy the photos.


Jouko Lehdon luontokuvia esillä Nokialla Myllyhaan koululla

Myllyhaan koulu Nokialla on valmistunut ja aloittanut toimintansa elokuussa 2021 alueen peruskouluna luokille 1-6. Koulun seinillä on akustiikkaelementteihin tulostettuna lähes 40 Jouko Lehdon...